Kelmscott Fencing – Complete and Reliable Fencing Solutions
Kelmscott Fencing Guarantees High Quality Fencing Solutions!
Kelmscott Fencing Contractors is a locally owned company in Kelmscott Perth, Western Australia. They are one of the best fencing solutions in Kelmscott, and they are known for providing cost effective and high quality fencing services. Kelmscott Fencing is the best fencing contractor you can call when you need to restore or rebuild your old fencing or when you require custom fencing installation.
Kelmscott Fencing Contractors is a highly trusted fencing company that provides high quality services and reliable fencing and gate installation. They will expertly install colorbond fencing, timber pinelap fences, pool gates, brushwood fences, and aluminium slatted fencing on schedule and within your budget. They manage all jobs efficiently, effectively, and with strong attention to detail, providing the highest return on your investment.
Are you looking for a professional fencing contractor in Kelmscott, Perth who can supply and install various types of fencing and gates? Kelmscott Fencing can handle different fencing services, including residential fencing, commercial fence and rural fencing. They are constantly prepared and professionally competent to manage any fencing installation, repair, or rebuilding of an old fence.
If you're looking for fencing contractors to install, repair, or improve your property, you've come to the perfect page!
So, you might ask, "Is there a fencing business near me?"
Are you looking for fencing and gates specialists for your residential or commercial property? Is your rural property in need of fencing? Or do you need to enclose your orchard to keep those pesky birds out? You don't need to look any further! Kelmscott Fencing can help you with complete fencing installations, fence repairs, or even rebuilding an old fence.
Increasing the value of your house should always be a top priority. When it comes to fencing, you're not only increasing the value of your home but also its security, safety, and beauty as well. Kelmscott Fencing can provide you with the superior fencing services you need. Our fencing services include fence installation, repair, and a wide range of services like colorbond fencing, balustrading fence and decorative fencing.
Proper fencing around and within your home's property can enhance the appearance of your home. Our skilled fencing contractors are trained and professional craftsmen who take pride in their work and strive to ensure your complete satisfaction with the finished project. Our fencing products and services are of the highest quality and built to last.
Continue scrolling down to read more reasons why you should choose professional fence builders from Kelmscott Fencing Contractors.
Kelmscott Fencing Services
Residential fencing serves a variety of purposes. They are not only helpful, but they can also improve the appearance of your property. The primary purpose of a fence is to provide security. A fence can help keep your children and pets safe on your property and prevent them from wandering off. Residential fencing can also help keep unwanted animals or trespassers from entering your property. Home fences can also inhibit outsiders from being able to see into your home. If you value the privacy of your home, installing a residential fence is the best option.
Commercial fencing is an excellent choice for business owners who want protection, security, and style for their property. Kelmscott Fencing offers a variety of fence solutions for commercial and industrial fencing projects to guarantee that your fence turns out to be what you want. If you're looking for a fencing business near me, look no further! Kelmscott Fencing Contractors are ready to assist you with your fencing installation requirements.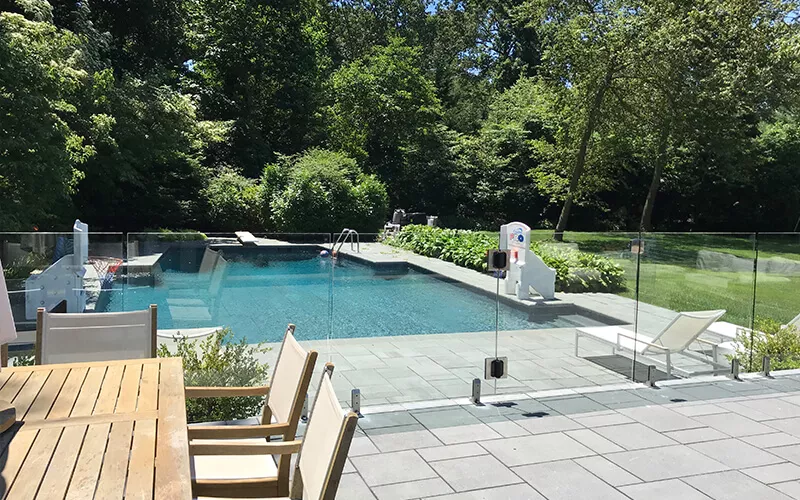 Some pool owners struggle with deciding which sort of pool barrier to install. The danger of a child drowning on a pool is imminent when there is no proper pool fencing; therefore, high quality and effective pool fences are essential to safeguard your family's safety, particularly youngsters. Are you looking for a pool fencing contractor in Kelmscott or pool fencing businesses near me? Kelmscott Fencing Contractors will help you choose the most appropriate fence solution for your pool.
Residential and Commercial Gates
The primary purpose of a gate is to keep intruders out of your home. Anyone who owns a property, especially one with valuables, wants it to be safe and secure. So, installing a proper and safe fence is one of the most straightforward solutions, but installing gates is an essential aspect that we cannot overlook. That is why a gate must be sturdy or strong enough that would be impossible to invade by someone attempting to break in. If you're looking for a bespoke gate design or a classic and straightforward gate style, Kelmscott's gates are an excellent choice to suit any home or property.
Professional Fence Builder
Our fence builders are experts at any fencing installation, fence repairs, and rebuilding old fencing. Whether for residential fencing, fences for commercial property, or rural fencing, Kelmscott Fencing's specialists provide high quality services for a wide variety of fence requirements. If you hire professional fence builders, they will assure clients satisfaction and deliver exceptional service for all fencing installation requirements. When you choose a professional fence installer, you can rest assured that they are skilled and knowledgeable to complete the work effectively. Contact your local fencing specialists to build, repair, or restore your fence.